Snoring. Wheezing. Gasping. And Always Exhausted. Is it Sleep Apnea?
Are You Experiencing any of these symptoms?
daytime sleepiness
chronic fatigue
morning headache
irritability
impaired memory and judgment
mood disturbance
scalloped tongue
raw throat
Call Dr. Bryan Stephens today: You could be suffering from the life-threatening disorder sleep apnea!
You're Not Just Risking a Good Night's Sleep. You're Risking Your Life.
Sleep apnea's real trouble starts when snoring stops – along with your breathing. Sleep apnea can cause a person to stop breathing for periods of time, sometimes hundreds of times during the night and often for a minute or longer.
Dangerously Underdiagnosed
Obstructive sleep apnea affects more than 20 million Americans, but only about 10 percent have been diagnosed – and they are all at risk for a variety of problems including:
High Blood Pressure
Coronary Heart Disease
Stroke
Chronic Heart Failure
Sudden Death
Dementia
Lack of Sex Drive
Impaired Driving
Helping YOU Get the Rest You Deserve!
Dr. Bryan Stephens has special training to recognize the symptoms of mild to moderate sleep apnea and treat you comfortably and conveniently right here in our Akron dental office. Call us today and schedule a consultation. We can help you finally get a refreshing night's sleep… and maybe even save your life!
According to Sleep and Health Journal, CPAP compliance ranges from 23 percent to 45 percent. That means nearly half of all patients are left untreated. And at risk.
Can't Use Your CPAP? We Have an Alternative
We offer custom made oral appliances that are so small they fit easily in the palm of your hand and can be packed in your carry on when traveling! These appliances have no machine and no mask– you can even speak and take a drink while wearing the appliance. Best of all, these tiny little devices can help you get a restful, healthy night's sleep in the same room as their partner!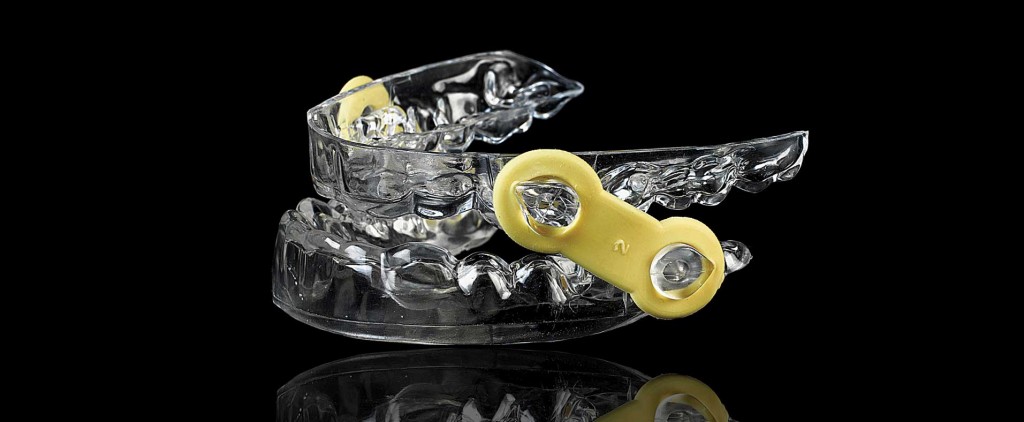 We are an Authorized EMA Lab, giving us the ability to create a custom Elastic Mandibular Advancement (EMA) appliance for you right here in our office.
With an EMA appliance, elastic straps move the jaw and tongue forward while you sleep, re-opening your airway and allowing proper breathing while you sleep.
What happens during Sleep Apnea treatment?
Initial Consultation:
Dr. Stephens will review your sleeping concerns with you and discuss options for relief, including details / results of your sleep study (if applicable). He'll also explain the Mandibular Advancement Device – specifically the custom EMA appliance described above. A full treatment plan will be established, laying out all phases and costs of a one year therapy plan.
Comprehensive Exam:
A comprehensive examination will be completed, inspecting jaw muscles, evaluating for TMJ specific conditions, and performing an oral cancer screening of soft tissue areas. Your airway will also be inspected and evaluated, as well as tooth and bite inspection. Finally, impressions will be made of your upper and lower teeth in order to create your custom EMA appliance.
Receiving your Custom Appliance:
When your EMA appliance is created and ready for your use, Dr. Stephens will check the unit for appropriate placement in your mouth and make adjustments if needed. He will then provide instructions on how to use and care for the appliance and answer any questions regarding home care.
Immediate Follow-Up:
If needed, an immediate follow-up appointment after 24-48 hours of appliance use in order to perform further adjustments.
Monthly appointments:
Monthly visits with Dr. Stephens to evaluate changes and improvements. Adjustments can be made to the EMA appliance as needed, and the number of appointments can be adjusted based on your individual progress.
Once we have you in a position where there are noticeable results, then we'll ask that you return to your physician for a follow-up sleep study to truly verify that the EMA appliance is working.
If you are a physician referring your patient to Dr. Stephens, please click the button above to download the Physician Referral Form.